July 24, 2018
Planning sightseeing tours in Chicago doesn't have to be intimidating or stressful! This is a leisure activity, and it's one that's fun for any group of individuals, whether you're a resident of the area or not. With all of the different options for destinations in the area, it's easy to customize a trip to your liking. We are here with some options to consider for your sightseeing tours in Chicago, and we hope you'll take them into consideration when you're putting together your list of places to visit. You can feel good knowing that we've provided transportation to hundreds of happy customers who embarked on a tour of the area!
Bar Tours Night life in Chicago is something that can be fun for all! There are so many different bars, restaurants, annual events, music festivals, and celebrations that happen in the community all year long. So, it's easy to switch it up when you're sick of the same olf sports bar experience! Some of the popular bars that we provide service to include the Violet Hour, Old Town Ale House, Scofflaw, Beauty Bar, and Le Bar. We can help you plan an itinerary that everybody in your group will love!
Sports Tours Chicago is serious about the sports teams that call the city home! Whether they're following the Cubs, White Sox, Bears, Blackhawks, or Bulls, you can bet that the fans of their teams are as passionate about winning as the players themselves are. Whatever the case may be, Chicago has a storied history with their sports teams, and it is the place to be if you want to see either your favorite Chi Town team or, if you are a visitor wanting to check out any of the major league sports that dwell here. If you haven't heard, some of the stadiums around town include Wrigley Field, Guaranteed Rate Field, Comiskey Park, United Center and Soldier Field. You could also plan on checking out spots like the Chicago Sports Museum! Our service is the perfect way to enjoy a sports game or tour around the famous sports locations in the city.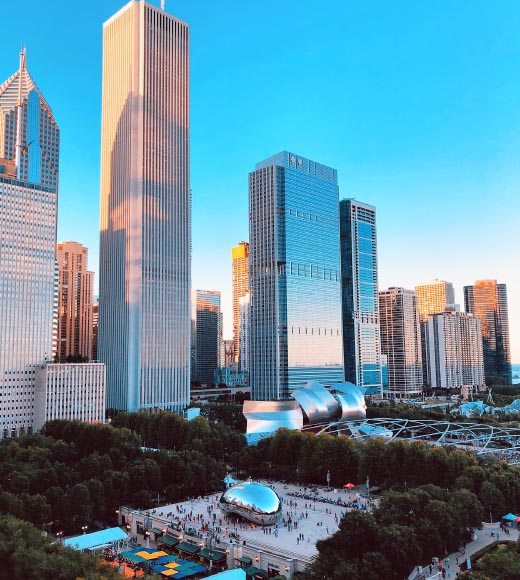 Art Tours Chicago is home to some famous public art installations and some of the best museums. From the Museum of Contemporary Art Chicago, the Art Institute of Chicago, Depaul Art Museum, and the National Museum of Mexican Art, there's a lot to check out. Don't forget about the popular installations like the interactive water fountain and reflective bean at Millennium Park! Using a bus to tour the art destinations is enough to get your creative juices flowing.
Food Tours It's no secret that Chicago has some of the best food in the Midwest! It's home to famous vegan diners, a special type of hot dog, and deep dish pizza as far as the eye can see. Don't miss out on some of the most iconic dishes at places like Carson's, Lou Mitchell's, Twin Anchors, Superdawg Drive-In, or Vito & Nick's Pizzeria. Using one of our vehicles to hop from one spot to the next to sample this towns delicacies is sure to result in tons of fun memories to look back on.
Shopping Tours Who doesn't love to shop? From high end luxury stores to amazing antique and thrift collections, there are hidden gems across the city for those who like to spend a little cash. Have you ever considered adding in a vehicle to the equation for your sightseeing tours in Chicago? We can provide lots of room to store your shopping bags and a way to avoid traffic and parking at the busy shopping centers.