August 03, 2018
Getting an exotic bus rental Chicago is one of the only ways to have a completely convenient celebration. Are you planning a party, or simply looking to get together with your friends? Life simply has the tendency to get too busy...don't forget to take the time to enjoy yourself as well. Something a simple as dinner and drinks in Chicago with friends can really help you relieve some of the stress that you're feeling from work deadlines and prior engagements. You can't go wrong checking out the restaurants in the Uptown area of Chicago! Larry's is a popular selection specifically. Konak Pizza has a cozy, comfortable vibe and wood-fired pizzas to enjoy. For a more upbeat bar experience, be sure to check out The Bar on Buena! Heading over to the Museum Campus puts you right in the backyard of the Field Museum and Adler Planetarium, some of the most notable places for tourists and residents to visit. If you've already been to these spots before, it's still an awesome idea to see what exhibits they're currently showing. If the weather is agreeable, time spent adventuring and people watching at Navy Pier is a worthwhile and calming experience. For those in the mood for some shopping, the Magnificent Mile has nearly 400 stores and services to choose from.
Are you specifically looking for an exotic bus rental Chicago for a wild event such as a bachelor or bachelorette party? We have years of experience providing service to these milestone events. After all, that's pretty much what our vehicles are made for! If you've never been to an escape room before, it's the perfect activity for a group. Here, your curiosity and problem solving skills will be tested with a themed interactive adventure. Depending on where you go to, there will be different themed rooms to choose from like. It's a suspenseful and thrilling way to spend an evening. Painting and wine destinations have the ability to host fun, memorable parties. The instructors are very patient, and all levels of creative expertise are able to thrive here. So, don't be nervous if you're not the best painter! Plus, the addition of your favorite drink is sure to loosen up your creative bones! You can also have creative freedom to choose the design you'll paint ahead of time if you're reserving a group party.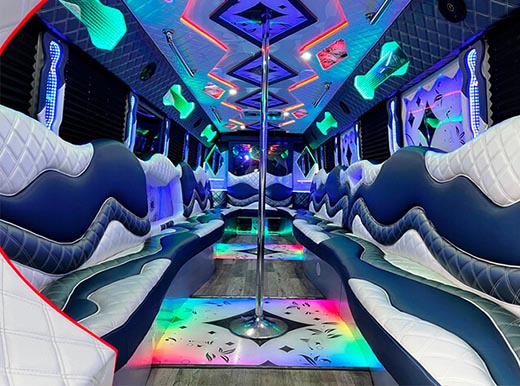 Regardless of what specific activity you're planning in Chicago, you can trust in our ability and expertise. Our exotic bus rental Chicago will add so much to your get together, you'll wonder how you ever got around without one in the past! If you will be consuming alcohol, it's really the best option for a group so you don't have to constantly order Uber or Lyft rides, which can end up getting pretty expensive. Luxury is the name of our game, but we are sure to strike a balance between affordability and quality for our customers sake. We can help you plan your event and pull off transportation seamlessly!