July 14, 2018
Renting a Chicago Party Bus is easy to do with our company! We have had the opportunity to provide service to nearly every event and celebration that you can imagine. You might be surprised at how many get togethers can benefit from taking the extra step to reserve a party bus. We're here to talk about some of the benefits you can expect when you reserve transportation for some of these specific events. This handy guide is just one of the ways that we are able to help you prepare for your next event. Talk to one of our helpful employees about what you're planning! We're able to suggest destinations, venues, and tips to make sure it goes well. In the meantime, here are some details to think about.
Weddings
Acquiring a Chicago party bus lays out a solid foundation for your wedding to build on. Without an efficient way to get from the ceremony to picture destinations and back to the reception, things would be extremely chaotic! You can choose how to utilize transportation for a wedding. Whether you'd like to provide a shuttle for your out of town guests, or you're simply looking for a way to transport the wedding party to the different locations around town. One thing is for certain, you will want to try to book your Chicago wedding transportation as early as possible to beat the crowds.
Sightseeing
The attractions in the city never get old, even if you have lived here for most of your life. We love to embark on sightseeing tours with our clients! You don't have to be new to the city to have a relaxing time on one of our buses. Whether you are interested in architecture, entertainment, or nature, we can customize the trip for you and your group. You will have an excellent time checking out the Navy Pier, Skydeck Chicago, Buckingham Fountain, Millennium Park, awesome museums, and more. It makes a huge difference when you don't have to keep your eyes on the road!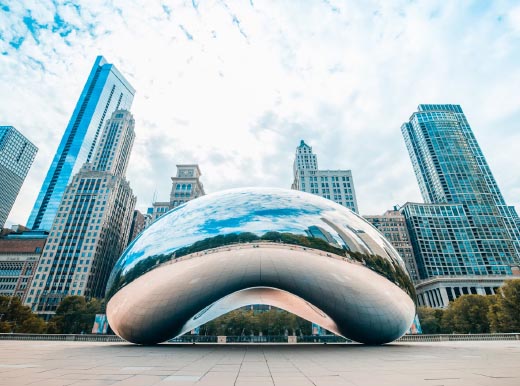 Sports
Chicago is a city that loves sports! Are you attending a game at Wrigley Field, United Center, Soldier Field, or Guaranteed Rate Field? Let us take you there! The traffic around the stadiums gets pretty wild during games. We can drop you off close to the doors so you don't have to hike to get back to your vehicle!
Nightlife
The night life in Chicago is varied, and there is truly an establishment that everybody can enjoy. There are constantly new bars and restaurants opening up, too. Instead of trying to find a designated driver after enjoying drinks, reserve a Chicago Party Bus. It will be so much easier than hopping from one Uber to the next. Our vehicles are made for groups to socialize and have fun on board, and they're a lot better than a sedan or SUV in that regard. The party doesn't have to end when you leave the bar with this type of vehicle along for the ride.