September 06, 2018
Are you looking for a Chicago bachelor bus? You're in the right spot! Not only do we have the vehicles to supply the perfect atmosphere, but we also know all of the hottest places to go for this celebration. Here are some local ideas organized by interest that are sure to give you direction when you're creating your itinerary. Have you booked your transportation yet? If not, give us a call. No matter what destination you want to check out, we will be happy to get you there in a safe way for your bachelor party in Chicago.
The creative types. Is the bachelor an artist or handy man? Those who are creative will love hands on activities like the classes that are available at Shatter Glass Group in the Portage Park neighborhood. Obviously, you will be working with dangerous elements like fire and glass, and this activity demands concentration, so be sure to save it before you enjoy any alcohol. Some of the most skilled glass blowers in the game teach here, so you're in good hands! You'll have tons of fun in the two hour glass blowing class for beginners.
The wild ones. We can all imagine the picture of the usual bachelor party. A raucous night out on the town with dancing, drinking, and ladies dancing. If this aligns with your vision, why not check out a popular strip club like the Admiral Theatre over in the Albany Park neighborhood. This is obviously a ton of fun for guys who are looking for the picturesque Chicago bachelor party experience! They also host celebrity events regularly, so check the schedule before you plan your party. If this isn't up your alley, there are a lot of other clubs to consider checking out. Let us know if you'd like some suggestions when you call and, our reps and chauffeurs will be happy to let you know if they have any suggestions.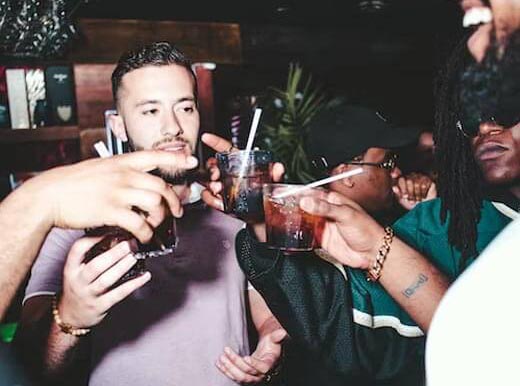 The beer lovers. If your group is filled with those who love beer, you really can't go wrong with a brewery tour in Chicago! It's fun to learn more about your favorite beverage in a trendy setting like the one found at Lagunitas. Lagunitas Brewing Company in the Lawndale neighborhood has a lot of fans around the country, so you know that the beer choices are top notch. The tours are free, and they're super informative. The atmosphere is super psychedelic, and the staff is excellent at customer service and attention to detail. If you're going to be drinking, it's so important that you reserve transportation like a Chicago bachelor bus. This is the only way to be totally sure of the safety of the group and everybody around you on the road. Make smart, responsible choices any time you decide to drink when you're out!